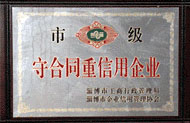 Zibo Shibang Chemical Co., Ltd. was founded in 2008. It is located in Zibo. It is a high and new tech enterprise which in professional in the R&D and production of pharmaceutical intermediates, fined chemicals, and dyes intermediates. The company engages in the R&D and development of chemicals which nave environment protective effect. The S&T ability is strong, productive technology is strong, equipments are first class, test structure is outstanding and the location is excellent. The company owns environment protective instruments and has passed the environment protective test.
The company mainly manages pharmaceutical intermediates 2,6-2,6 - dichloro -3 - nitropyridine series, dye intermediates Phenylhydrazine -4 - acid series and fine chemical 2,5 - Diamino toluene sulfate series products.
The company adheres to be innovative, quality-oriented and credit development as the principle. It based in the S&T progress and technology innovation to keep step with international market. The company is active in the development of high tech products with universities. The company together with all the employees would like to serve each customers and welcome to visit and guide.